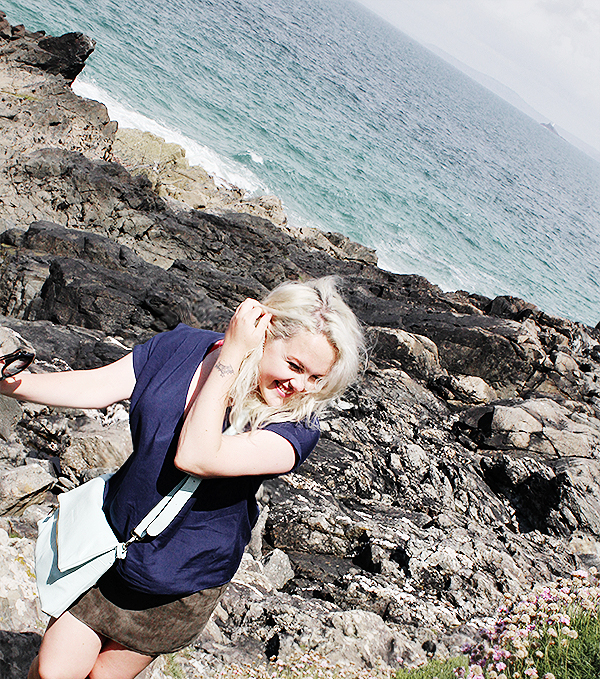 It has been almost two years since I was last in Cornwall and – having done very little exploration during my first visit – I have been especially eager to return.
Booking a week of co-Boy, co-Boy's family and solo travel across Cornwall, the most logical starting step was a trip to St Ives. I cannot even type St Ives without getting this bloody nursery rhyme stuck in my head (thanks, primary school). It has been a wanton destination for over twenty years…
St Ives is a seaside town, civil parish and port in Cornwall, England. The town lies north of Penzance and west of Camborne on the coast of the Celtic Sea. In former times it was commercially dependent on fishing.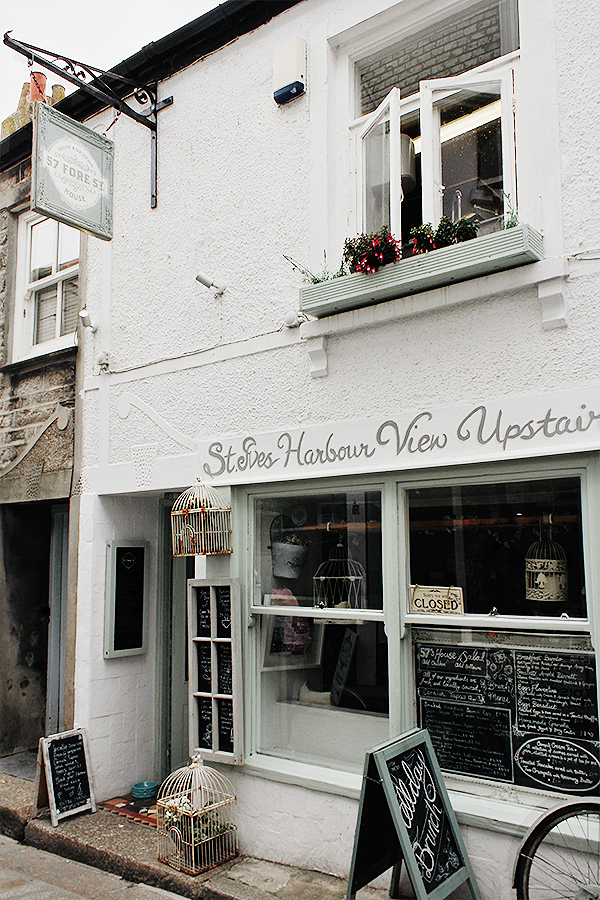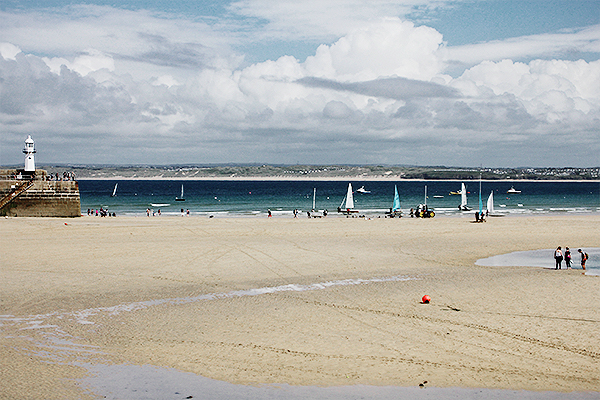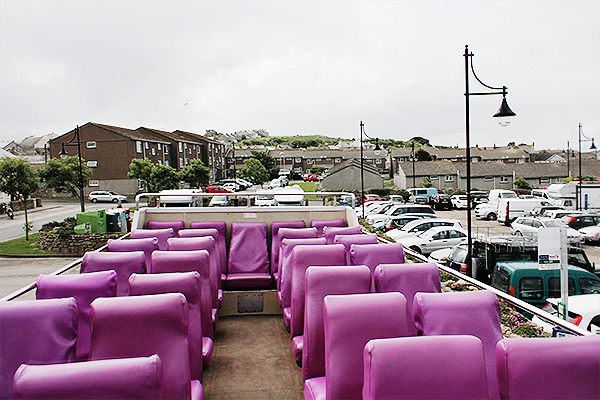 Leaving from the small Cornish village of St Just, we hopped on the 300 (an open-top bus) and took a truly British (read: truly horrific rain-showered) journey to St Ives. The bus takes roughly one hour, does have indoor seating for those smart enough to use it, and sweeps through picturesque hills & narrow streets completely unintended for a large bus to ascend or manoeuvre through.
We arrived to a postcard-perfect – albeit grey – sunrise at the harbour and took a long walk to get our lay of the land.
The local shops are almost entirely independent, which was a real delight to discover. We started browsing through JOHN'S (a wine are spirit specialist that make and sell their own Cornish cider) at the top of Fore Street before discovering 57 Fore Street – an adorable, fairy light-lit coffee shop with a secret view of the harbour from its upstairs dining room (if/when I return, they have a Cornish tapas menu I have my eye on). We spent a decent chunk of the morning playing Snakes and Ladders under soy flat whites like the Cornish baby adult hipsters we are.
Having never had an authentic Cornish pasty, we grabbed two 'traditionals' from Pengenna Pasties and took them to the beach to eat. Incorrect in believing its distance from the harbour and old-school interiors would be the mark of originality, we were left with grey and unseasoned versions of the local delicacy and left most of them to the maniacally hungry seagulls.
Pasties, as I discovered later in the week, are worth their reputation when made and served with love.
By this time, the tide was rolling out and leaving boats sandlocked in the harbour. A curious sight, to say the least.
We delved further into the side streets and happened upon a quaint mackerel shed shop, a teddy pasty retailer (they take their pasties very seriously here), a local ringmaker, The Wonderful Bear Emporium (the indie Build A Bear), and an abundance local artists' galleries (I was even lucky enough for The Boy to treat to a piece from the wonderful Nicola Tilley).
(An unusual find: Kudos is brimming with delightful tat. Everything from a pair of bronze Benin leopards (apparent protectors of the royal palace, for £34,000) to ridiculously overpriced musical instruments. It looks like the kind of home where travelling hoarder might trip, get stuck, and be found months later…eaten by their cats.
But, you know, charming.)
Having walked up a bit of an appetite, we stopped at The Tearoom by the beach. As a woman who takes her scones very seriously (even if I load my clotted cream and jam the Devonshire way), I can safely say they serve the best cream tea in St Ives, if not everywhere. Warm, fresh, soft on the inside, crisp on the outside, melt in the mouth scones and service with a smile. A must-visit.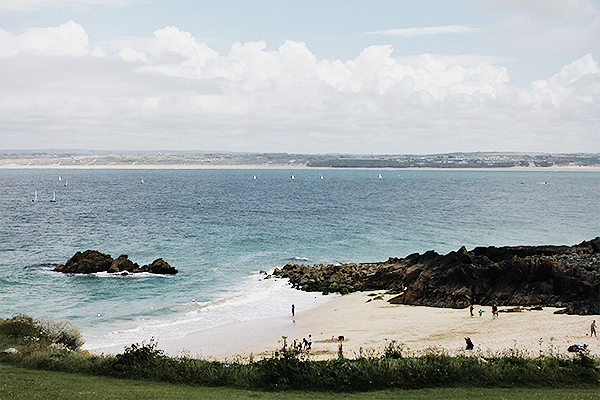 With the sun's unexpected arrival (and the less joyous arrival of children en masse), we broke  off further towards The Island (a small hilltop coastal park), discovered a 50p 'book shop', and played rock-scaling mermaid games before accidentally happening upon Porthmeor Beach; an unfathomably deserted, golden-sand beach that the town's tourists seemed to miss completely.
As our walk continued, we spotted a small craft fair and left with some handmade soy candles from the lovely young creator of Eilish Candles less than five minutes later.
On our way back to the bus, we happened to witness a brutal seagull attack on a German tourist's muffin before getting the open-top bus back for additional adventures (coming soon!). This time without getting drenched.