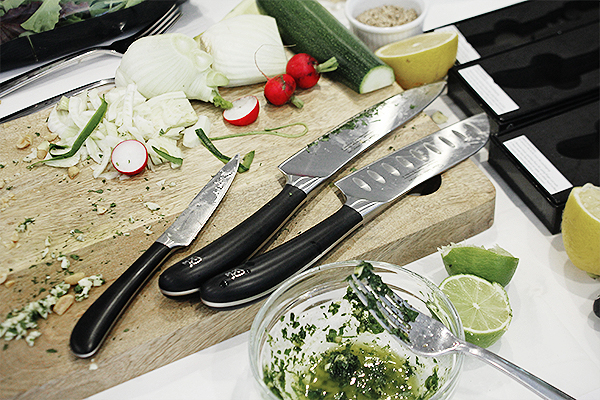 For the last few months I have been putting my Robert Welch signature knives through their paces and thought – as this corner of the internet plays host to all the things I love – it was time I gave them a swoon of their own.
I had invested little time or money into my own knives until this Summer and, from what I understand from everyone I've spoken to in the months since, I'm not alone. Many of us simply believe knives are knives. That bread isn't made to be cut easily or that a good chef's set is only that of the tortured professional.
Knives have proved to be so much more. From my very first introduction, I've used my Signature set like extensions of my own arms. I've used the weight of the handles like a team of sous chefs. I've sliced loaves of bread in machine-worthy equal slices. I've created exceptionally flavoured sauces and dishes unlike that of my blunt-knived past. Even on my lazier days, the Signature Cooks' Knife tackles everything from lemons to mint with such ease it suggests it knows exactly what dish I'm trying to make.
As if the ability to move around the kitchen like a stainless steel-weilding chef isn't glory enough.
I could not recommend the set more and – thankfully – I've just been informed that they are hosting a competition so you can win your very own Signature set (right here)! I'll keep everything crossed for you, babe.