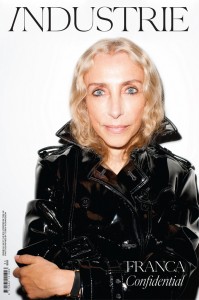 Terry Richardson has shot a Katie Grand-styled editor of Vogue Italia – Ms Franca Sozzani – for the 4th edition of Industrie magazine.

Lily Allen has given birth to a baby girl! The songstress/fashion boutique owner had her happy news announced by boyfriend Seb Chew, who tweeted, "sending out love to lily, sam and mini cooper… YES."

Remember that that billion-dollar tax evasion lawsuit that fell on Domenico Dolce and Stefano Gabbana earlier this year? Well, it is back with a vengeance. The Italian government have decided to overturn the case's ruling.

The case alleges that Dolce, Gabbana and several other company executives didn't pay the correct taxes when they sold their Italian brands to – their own – Luxembourg-based holding company, Gado Srl. This leaves each designer with roughly €416 million in taxes to pay; a debt which sparked Gabbana to break a 3-year silence over the case via Twitter, tweeting:
"Ladri!!!" [thieves in Italian]
"They don't know what to do to get money out of us."
"It's really true that in Italy they do what they want…as they please…Perhaps it would be best to leave…"
…and more.

You good ole Americans – despite the current financial situation – turned out in record-breaking numbers for Black Friday. Over the weekend, you spent $52.4 billion, with $11.4 billion coming from Black Friday alone. The average shopper actually spent $398.62 over the single weekend, breaking all of 2010's records.

LADRI! I mean….THIEVES! Following the european train theft of Marc Jacobs' Spring/Summer 2012 collection, it has just been revealed that over $400,000 in Louis Vuitton goods have been stolen from the Roissy-Charles de Gaulle airport near Paris.

The perpetrators? Apparently, "Ocean's 69", five masked robbers which were said to have "neutralized" a security guard and four employees on Friday, taking 10 pallets of Louis Vuitton loot.

Bad things happen in three, right? Dior need to keep their eyes open for this Marc Jacobs-crazed gang.

Pictures have finally been released of the "Twilight Wedding Dress". As much as I'd like to turn my nose up…just look at it. Carolina Herrera. Gorgeous.

As I mentioned on Twitter, twenty-eight-year-old actress Felicity Jones (you may remember her from her role in this year's "Like Crazy") has been announced as the new spokesmodel for Dolce & Gabbana cosmetics. Her first ad will be for the brand's forthcoming Kohl spring makeup collection, and will launch in January 2012.