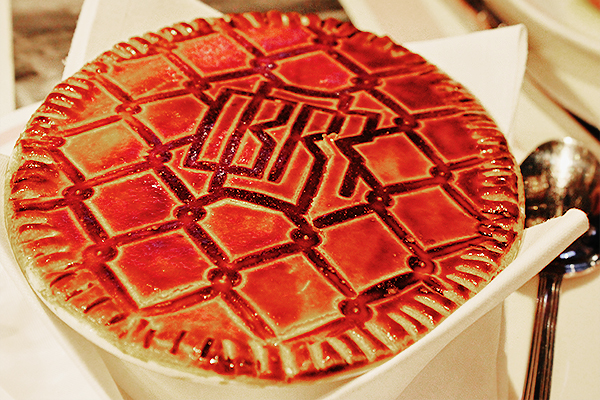 For almost three years, I have identified Tom Aikens as the best restaurant in London; the restaurant I recommend to every tourist, Londoner, and acquaintance in between…
I've swapped camps. My sadistically pre-emptive 'last meal' will now have to be taken at Bob Bob Ricard. To be frank, it kicks some luxurious ass.
In the middle of London Fashion Week, three of my nearest and dearest joined me at the Russian-influenced restaurant for a spot of lunch between shows. A caviar-topped, triple-coursed, and champagne-fueled spot of lunch, that is.
Cheersing over a bottle of Ayale Rosé Majeur NV (a fresh and fleshy champagne – in my opinion, as drinkably refined as it gets for rosé), we chose to leave our starter selections in the hands of our waiter, hoping it would be a strong indicator of the restaurant's strengths and weaknesses before it came time to order our mains.
Unfortunately, every dish was as delectable as the next.
In a frenzy of visually-triggered starvation, we rushed to feed each other a feast of Oysters de Gaulle (grilled with Bearnaise sauce and chervil), Oysters Brezhnev (baked with parmesan and black truffle), lobster Pelemeni (served with Salmon Roe), truffled potato and mushroom Vareniki dumplings (served with crispy onion and Shimeji mushrooms), seabass ceviche with avocado (made with cucumber, tomato, coriander, jalapeno peppers and lime), and a small glass of vodka to wash it all down.
When in Rome.
Tortured by the idea of missing out on a spectacular dish, we agreed to share as many bites as we could spare and order from different sections of the menu.
Naturally, I still managed to throw a metaphorical lock and key over my venison steak tartare as soon as it arrived. Steak tartare is my number one comfort food (try to ignore the psychological profile that gives me), but Bob Bob Ricard's version – with raw quail egg and double-bite croutons – was, essentially, The King of Tartare.
Not that the other dishes don't deserve their own distinctions, my friend's chicken, mushroom and champagne pie was a monogrammed masterpiece, the Filet Mignon Rossini (28-day aged Scotch beef with seared foie gras and confit apple, served with truffle gravy) was the most indulgent and rich plate of food I'd ever laid eyes on, and the Fresh lobster macaroni and cheese (specifically, swiss and parmesan cheese) was a comfort food dream come to life.
Even the carrots and parsnips (roasted in beef dripping with honey and thyme) made my difficult-to-please, carnivorous male friends swoon.
Feeling it was time to finally play with the Press For Champagne button (Bob Bob Ricard is almost infamous for their indulgent button system), our waiter promptly sashayed over with a bottle of Ayale and topped our glasses up. A gimmick to some, but a gimmick too rewarding to deny
By our waiter's suggestion, we paused to share 30g of Alverta Imperial caviar (absolute salty perfection and known for its larger eggs and lighter colour), already planning our next visit.
As I become less and less of a 'dessert person', I made sure to enjoy my share of Alverta and went – once again – with our waiter's recommendation for dessert. While my friends made marriage proposals to their Dulce de Leche creme brulees and strawberries and cream souffles, I took a bite of my friend's Eton Mess en Perle (lime meringue, strawberry sorbet, raspberry, marshmallows, and cream) and had an epiphany.
When dessert shows up looking like this, I am absolutely a dessert person.
One pour of mint creme anglaise of chocolate and mint souffle later and I was sold: Bob Bob Ricard is the best restaurant in London.