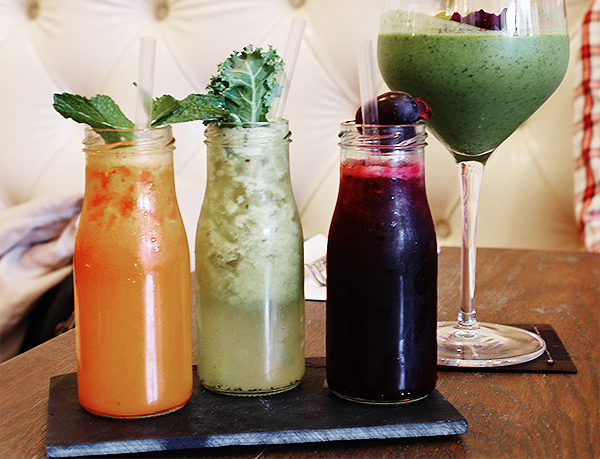 L'eto has become one of my favourite meeting spots in London. Thanks to their super fresh food and easy-access locations, the 'Caffe' ends up on my calendar at least once a week.
When I saw they had launched a new health-conscious breakfast menu, I was shocked to realise I had yet to visit their Brompton Road location (as opposed to their King's Road and Belgravia caffes).
That's as good an excuse for brunch as this woman needs…
Having a bit of a 'Princess Day off' (if you haven't done one yet this year, call HR immediately), my lady love Jen and I took a leisurely walk from South Kensington and poured ourselves into the gorgeous caffe on a quiet Monday morning.
With an endless menu of healthy indulgences to order, we kicked things off with a green tea smoothie and trio of juice shooters; 1) carrot and blood orange, 2) green apple, kiwi, and kale, and 3) beetroot and red grape.
Naturally, we then ordered the naughtiest of the healthy options. For me, ricotta hotcakes, banana, and honeycomb butter. For she, blueberry pancakes with fresh berries and vanilla cream. To share, a freshly sliced avocado.
Sipping and chomping and singing along with their infectiously nostalgic background music, we had an absolute ball. Forcing our little breakfast feast to last as long as possible, we ordered a mosaic-foamed latte and heart-topped flat white as a morningcap.
The Princess Day had to roll on (but don't worry, L'eto, I'll roll on back…)