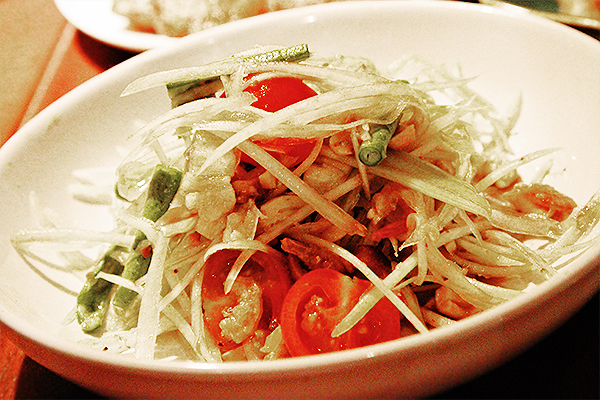 Since coming back from Thailand, I feel like I have lost my left arm. Or left stomach. Or my right stomach.
No food cuts it like Thai food. Thankfully, Busaba Eathai exists. And so does their new Kinnaree Bar.
Pushing through a painful two weeks since our last Thai meal, The Manfriend and I hightailed our empty stomachs to Busaba's flagship restaurant in Shoreditch for an evening of spicy indulgence.
Sitting down at one of their traditionally communal tables, we ended up ordering so much food that the seats either side of us were sacrificed as plate space.
After taking a few sips of our respective martinis (mine – the Lychee and kaffir lime martini, jasmine and kaffir lime infused vodka with lychee and lemon – was a sour yet floral delight), our dishes arrive like a hurricane.
Forgoing solo dishes for a spread to share, we kicked things off with fish cakes (with cucumber and peanut relish) and chicken satay with peanut sauce before meandering over to the larger plates: Sen Chan Pad Thai (rice noodle, king prawn, peanut, egg, green mango, and crabmeat), chilli prawn fried rice ( with shiitake mushroom, lime, and pickled morning glory), and Songkhla red curry
The latter – a dish which I had never tried before – was actually the surprise highlight; an aromatic concoction of slow-cooked beef, cherry tomato, banana pepper, and a perfect blend of sweet/salty/sour. My ultimate recommendation.
We did go down the spicy rote – especially with the addition of my beloved som tam (green papaya salad with dried shrimp, peanut, cherry tomato, and lime) – but I am pleased to report a plethora of happy faces from the sea of 'no spice!' customers seated around us.
In Thailand, they wouldn't be so lucky.
Amazingly, we managed to eat ourselves silly and drink ourselves to almost believe we could clear our plates for less than £100, all in. It may not match up to home country pricing, but Busaba is the cheapest, freshest, and tastiest feast you're going to find West of Thailand.