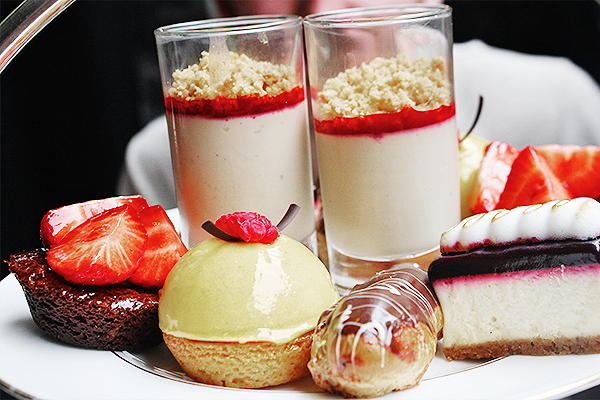 Though I'm sure I have had an afternoon tea or two this year, I developed an insane craving for the full affair after indulging in a few of Cornwall's best cream teas.
There really is no better place to scratch said itch in the home of afternoon tea, is there?
As 1830s credit would have it, Anna Russell (Duchess of Bedford) turned your run-of-the-mill afternoon tea into a social occasion after deciding to invite friends to enjoy hers at her side in the heart of Bloomsbury – a stone's throw and century-plus from Dalloway Terrace.
With this in mind, the restaurant (and indoor-outdoor terrace) recently launched an alfresco afternoon tea to bring the traditional home.
Thanks in large part to the genius of Pastry Chef Mariatu Kargbo (The Dorchester, The Lanesborough, The Berkeley), the afternoon tea is a bite-sized triumph after triumph. The smoked corn-fed chicken in brioche melts in the mouth, the smoked salmon & crab rillette on Guinness bread was so delicious I ordered 'another round', and the freshly-baked plain & sultana buttermilk scones were some of the best I have ever had.
In addition to this, the service was so warm and welcoming I ended up tipping more than I spent on the actual meal. There is no schtick or charade here. Just beautiful food, tea and bubbles (you must try the Ridgeview Bloomsbury 2013, a gloriously crisp English sparkling wine) in an idyllic, tourist-free hideaway.